Don't know quite how this will work; never tried this feature before. But I'm in a mood to experiment.
I'm still sick. I have no idea what I caught. I just know that it's laid me low for over a week now... and I don't get sick very often.
I did not get close seats to see Shakira. A veteran of many stadium shows, I figured that I wouldn't ever get close enough to matter. But I wished I had smuggled in a better camera. Guards with metal detectors were wanding down everyone entering the building. I was more concerned about smuggling in my Minidisc unit in. Women were having to empty their purses. It was ridiculous. "No cameras!" warned the guards. But once the lights went down, the flashes started popping. It never seems to matter how many rules I follow; I always get short-changed.
I had worried that Shakira would do primarily her English-language songs. To paraphrase Thelonius Monk, I needn't have worried. Most of her music was in Spanish; and most of her audience was Hispanic. Some anglos might have felt in the minority; I really didn't. I'm used to blending in unnoticed.
The performance, of course, was pure perfection. Based on news accounts of Shakira's tour that I had read, there was little improvisation or variation from her set list, but that was okay--I would pay the same amount of money to see it all over again--especially after I discovered that I had accidentally set my Minidisc to record at "Hi-LP" instead of "Hi-SP", which basically meant that I captured the entire concert at bit-rate similar to a bad .mp3.--or to hear "La Tortura" or "Obtener Un Sí" again.
I have never cared for the "Hips Don't Lie" song, though.
I am discovering that I'm not alone in my infatuation. Shakira is obviously a crossover success in the non-Hispanic market, and I can't quite put my finger on why... obviously, she sings in Spanish, but her music has broken through to a non-Hispanic audience in remarkable ways. The mystic in me says, "She's a reincarnated old soul," but I think it's something more basic--her music seems to nod heavily to Western cadences.
Afterwards, I did something that I rarely do--I got the t-shirt. And probably paid too much for it. What the heck--I didn't have to drive home that night. It was worth the wait. (Also got a cap.)
The shirt that I got, of course, for a whopping $40, was the one of the much-seen image of Shakira sucking her finger in promotion of her tour: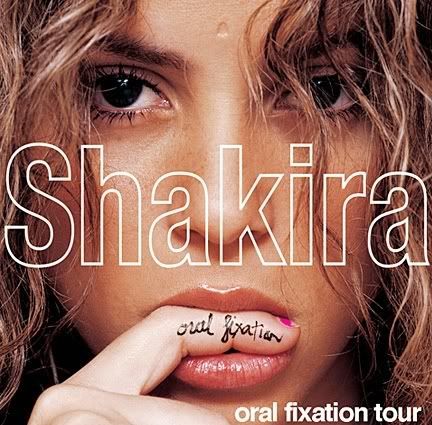 Reportedly, Shakira explained that she decided upon the "oral fixation" label because "I have always lived through my mouth... It is my biggest source of pleasure and my most accesible vehicle to discover and enjoy the world. I am fixated on chocolate! I am fixated on the spoken word, the written word, the things I have said and the things I should never have said."
Sounds reasonable to me.